Interview With
Tapes 'n Tapes
TOE-CURLING JITTERS OF ADRENALINE, CONFUSION AND PASSIVE-AGGRESSION
Tapes 'n Tapes are a refined rock 'n roll menagerie who, according to indie legend, feed on fuzz, distortion and the toe-curling jitters of adrenaline, washed down with acute aggression, mild confusion and deep melancholy. The foursome from Minneapolis have been together since 2003 and – after taking their name from the initial mountain of tapes that they'd amassed whilst recording their exploratory jams and noodles – have subsequently toured the world several times over and released several critically acclaimed records.
Way back when, in the winter of 2004, the band bought some recording equipment and headed out to a rustic cabin in the woods of Wisconsin where they recorded their debut, self-titled, now-deleted, seven-song EP in three days. Following the success of this, the band immediately began work on The Loon – their debut album which would irreversibly change their destiny, the eleven songs of which were recorded, mixed and produced in one week at a friend's home studio. The Loon came out in 2005 and suddenly people started to notice the foursome's jangly, melodic brand of rock and the band started touring, gaining more and more attention from music critics and fans all over the world. It is since this date that Insistor – the record's first single – has been a staple in my DJ sets. The prestigious XL Recordings re-released The Loon in 2006 and the band toured globally and extensively for the next few years, playing shows with the likes of Franz Ferdinand, Cold War Kids, The Black Keys and Echo & the Bunnymen.
For their follow-up (Walk It Off) the band worked with their dream producer – Dave Fridmann (Flaming Lips, MGMT) – however, years of touring, the political climate and their distance from friends and family had changed the band and given them a different point of view; one that seemed to pervade their sound. Walk it Off was tighter, more dynamic, a little bit lairy and released in 2008 on the same day the band made their debut on Conan O'Brien. After touring and supporting Walk It Off for the following year it was time for a little rest and relaxation and Tapes 'n Tapes purposefully tried to revisit the time when being in a band was fun and not just about doing business and shifting units. They also decided to go back to their roots and do everything on their own with no label involvement, so they cut ties with XL, re-launched their own label and set out to make the record they've always wanted to make. Outside was recorded and self-produced at home over two weeks last year and mixed with Peter Katis (Interpol, The National). Tapes 'n Tapes have finally made the record they've always wanted – twelve songs that are playful and melodic, while also capturing the essence and energy of their live show. Most importantly of all, they have done it on their terms.
The guys have just finished recording a version of I Want You (She's So Heavy) which will be released on Minnesota Beatle Project Vol. 3 as soon as the neccessary hoops 'n hoops that come with releasing a Fab Four cover are jumped through. Until that drops in early December why not download Freak Out here for nowt and check out the video for Badaboom below. Aces 'n aces.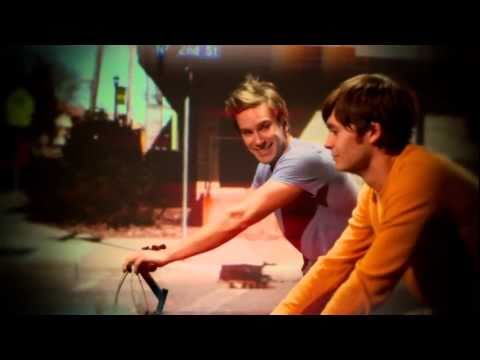 Profile Photo: Cameron Wittig